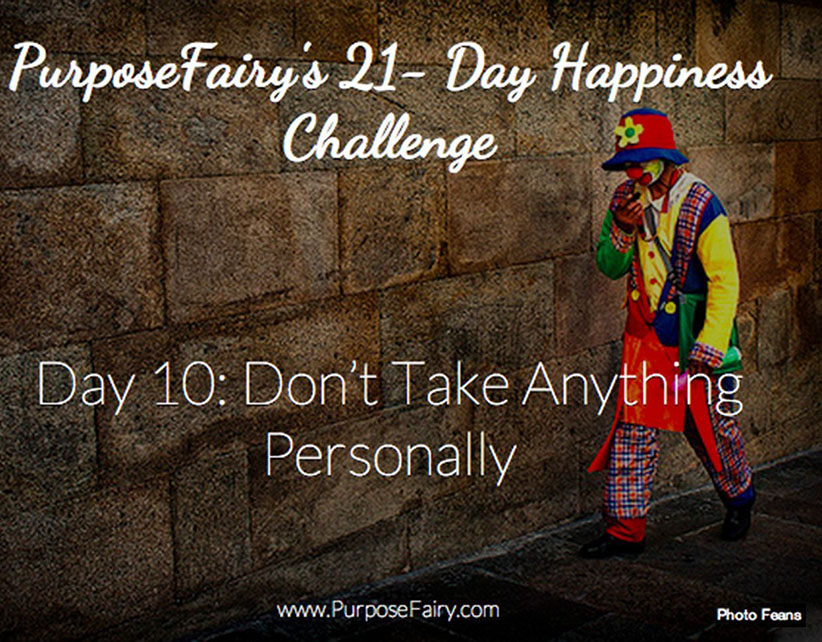 The 21-Day Happiness Challenge Day 10: Don't Take Anything Personally
"Don't take anything Personally. Nothing others do is because of you. What others say and do is a projection of their own reality, their own dream. When you are immune to the opinions and actions of others, you won't be the victim of needless suffering." ~ Don Miguel Ruiz
Do you tend to get upset because of what other people say or do, assuming that their words, actions, and behaviors revolve around you?
Don't Take Anything Personally Exercise: 21-DAY Happiness Challenge Day 10
Take a few deep cleansing breaths and think of someone from your past who, consciously or unconsciously, projected their own pain and darkness onto you.
Now place your hands over your heart, close your eyes, and as you continue breathing deeply and slowly, repeat these words to yourself:
"People give what they have in their hearts to give.
If they have love in their hearts, they will give love; If they have pain, they will give pain.
I now fully understand and accept this truth.
I now choose to no longer take things personally."
Stay in this space as much as needed, and when you're ready, take three deep cleansing breaths, and bring back the feeling of empowerment and inner peace.
Congratulations!
You have completed the exercise for the day.
This was 21-Day Happiness Challenge Day 10. If you enjoyed this exercise, share it with your friends, and discover more in my new book 15 Things You Should Give Up to Be Happy.
~love, Luminita💫
Comments