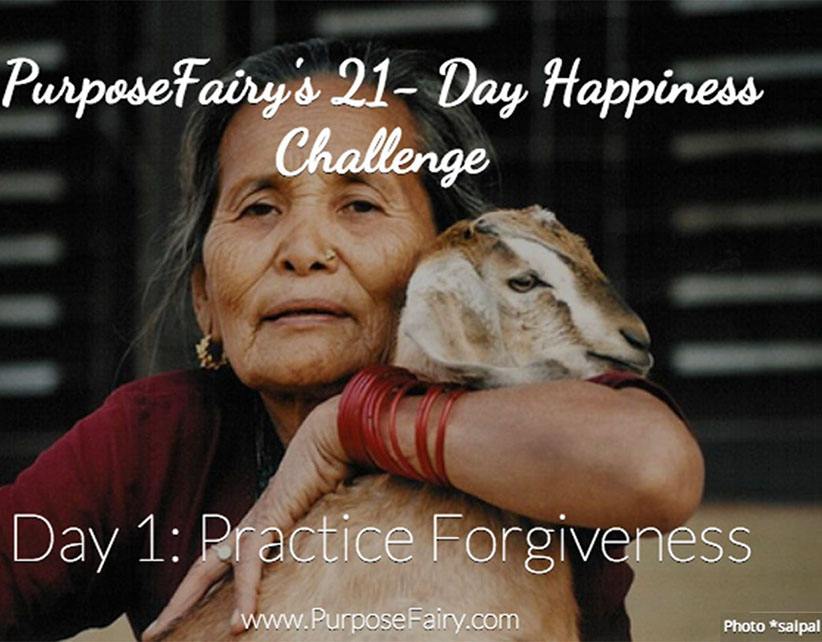 The 21-Day Happiness Challenge Day 1: Practice Forgiveness.
"Forgiveness is a gift you give to yourself, to be at peace, to be happy and to be able to sleep at night. You don't forgive because you are weak, but because you are strong enough to realize that only by giving up on resentment you will be happy." ~ Luminita D. Saviuc, 15 Things You Should Give Up to Be Happy
When was the last time you truly, deeply forgave someone? On this day, think of one person who might have hurt or mistreated you in the past, and give them the gift of forgiveness. Commit yourself to forgiving what needs to be forgiven and allow yourself to feel the peace and serenity that comes from doing just that.
Let go of all the anger, all the negativity, and all the resentment that has been poisoning you and your life for all this time, and allow yourself to be at peace. 
Forgiveness Exercise: 21-DAY Happiness Challenge Day 1 
Close your eyes and relax by taking a few deep cleansing breaths.
Think now of one person you need to forgive. (This person may not deserve your
forgiveness, but you deserve to be at peace. You're doing this for yourself, to set
yourself free) And whenever you feel ready, imagine saying these words to them:
"I no longer want to hurt myself by holding onto these feelings of hurt, anger, and resentment.
I forgive you and I set you free. I set myself free…"
As soon as you say these words, imagine the resentment that kept both of you attached for so long being permanently removed, and all the feelings of hurt,  anger, and helplessness melt away.
You feel so much lighter, freer!
Spend at least 60 seconds in this space of quiet solitude, inner peace, and love.
Take three deep cleansing breaths and whenever you're ready, open your eyes.
Bring back the feelings of inner peace, love, and tranquility.
Congratulations!
You have completed the exercise for the day.
This was 21-Day Happiness Challenge Day 1. If you enjoyed this exercise, share it with your friends, and discover more in my new book 15 Things You Should Give Up to Be Happy.
~love, Luminita💫
Comments