"Spreading love everywhere you go: first of all in your own home. Give love to your children, to your wife or husband, to a next door neighbor . . . Let no one ever come to you without leaving better and happier. Be the living expression of God's kindness; kindness in your face, kindness in your eyes, kindness in your smile, kindness in your warm greeting."~ Mother Teresa
Over the course of time, I have come to realize that what makes us so special and unique is our ability to be selfless, compassionate and kind.
Our ability to be there for the people we care about and share with them even the little you have, without expecting something in return. We are here to be LOVE and to be spreading love and kindness through even the smallest gestures we make because I know now that the more we share, the more love and gratitude will be shown to us and that's all that matters at the end of the day.
"If the story of my life could say one thing, I'd hope it would show the importance of venturing into the highways and the hedges to let invisible people know they're seen and loved. To invite them in." ~ Amanda Cox, The Edge of Belonging
Spreading Love
I know now that spreading love and kindness doesn't always have to be something big and it can be done with any chance you got. You can do it by helping an older person cross the street, giving a stranger directions, giving up your seat on the bus to someone else or just by simply smiling at the sales person from the grocery store, help your spouse with the dishes and so forth.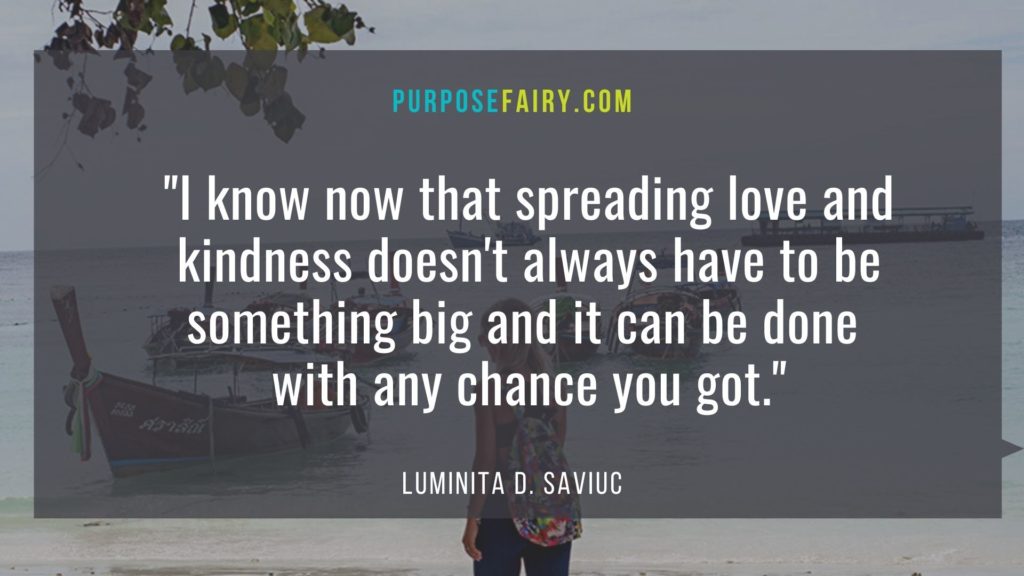 These are small gestures that make a great difference in peoples' lives and you may never know how that might light up their day by spreading love everywhere you go.
In this beautiful video, a child was asked by his teacher to speak about the superhero he would like to be and why and…what he wrote on his paper will leave you speechless and will surely melt your hearts. I know it had this effect on me.
Enjoy 🙂
A Lesson in Spreading Love and Kindness
~love, Luminita💫
Comments