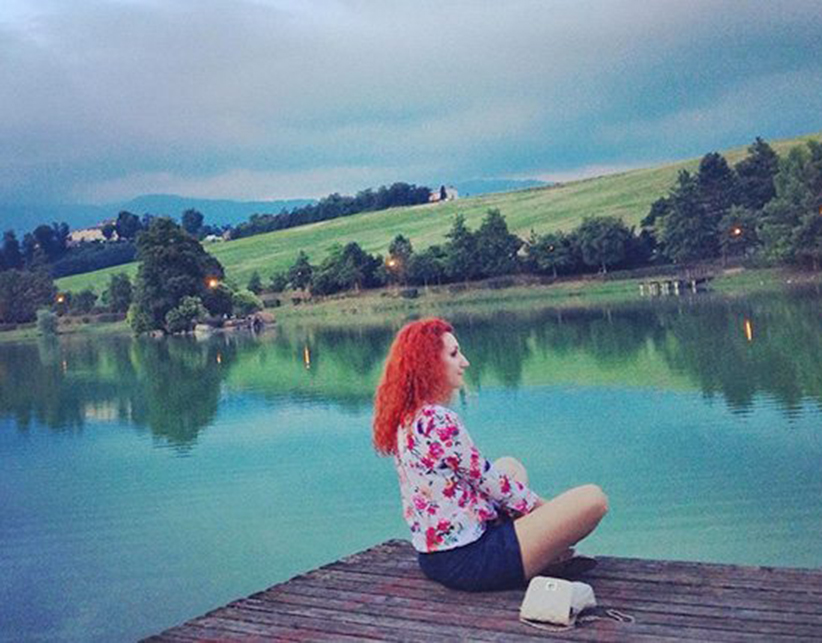 "We should never give up on love. If we do, we risk losing ourselves, our happiness, our purpose, and our joy."
Never Give Up on Love
You know what I really love?
Love!
I love LOVE! 
The way I see it, there is no bigger and powerful force in the whole universe than love.
Love makes the world go round. It's the glue that holds everything together. Love is what we are made of. We are made of love and made to love. Our true nature is love and by trying to move away from love, by saying that we want to give up on love, we slowly but surely move away from who we truly are. We move away from our true nature, drifting away and feeling more and more disoriented, disconnected and confused.
The biggest mistake anyone can make is to give up on love.
How can you give up on something that's in you? How can you give up on something that is YOU?
If you give up on love, you give up on yourself and you give up on life.
Without love, there is nothing left. Nothing worth having. Nothing worth doing. And nothing worth living for.
Why you should never give up on love
"Never give up on love. If you do, you will no longer remember who you are, where did you come from, where you're going, and why…"
You often hear people saying things like:
"I'm giving up on love.
Love hurts.
I don't ever want to love again. I'm too afraid I'll get hurt again.
This love messed me up and I'm done with it. I'm done with love!" 
We truly believe love is the source of our suffering. When in fact, it's not loving that hurts. It's not loving that's causing us to feel pain and heartbreak. But rather our attachment to how things should or shouldn't be. It's the ideas we have in our head about what love should be like and about how relationships should manifest.
Most of us are in Controlling Relationships, not Loving Relationships. We play God with one another, controlling and pretending to know what's best for each other and we deprive ourselves of the freedom that each of us wants and needs.
Instead of allowing one another to express ourselves and live our lives in the way our Souls intended for us to live our lives, freely and authentically, we get in the way. We interfere and influence each other's destiny, not in a positive, but rather in a negative, and at times destructive way.
"Love is patient, love is kind. It does not envy, it does not boast, it is not proud. It does not dishonor others, it is not self-seeking, it is not easily angered, it keeps no record of wrongs. Love does not delight in evil but rejoices with the truth. It always protects, always trusts, always hopes, always perseveres. Love never fails. But where there are prophecies, they will cease; where there are tongues, they will be stilled; where there is knowledge, it will pass away." ~ 1 Corinthians 13:4-8
It's not loving that hurts. It's not loving that you should give up on. For love is only interested in loving. Love is not interested in controlling or trying to change or cage the other person. Love only wants to love, for that is all that love knows how to do.
If you were hurt and injured emotionally because of a relationship you have been in, know that love had nothing to do with it. And know that it's not loving that you should give up on but rather your attachment and the many toxic and distorted ideas you have about love.
"He who is overly attached to his family members experiences fear and sorrow, for the root of all grief is attachment. Thus one should discard attachment to be happy." ~ Chanakya
We confuse love with all kind of toxic and distorted things, claiming that we know what love is all about when in fact we know little or nothing about it. 
People who have never even glimpsed the realm of the infinite vastness of love go around claiming and pretending to know what love is really all about. Giving love a bad name, claiming and affirming that love hurts and that love causes pain. 
"Love liberates. It doesn't just hold—that's ego. Love liberates. It doesn't bind. Love says, 'I love you. I love you if you're in China. I love you if you're across town. I love you if you're in Harlem. I love you. I would like to be near you. I'd like to have your arms around me. I'd like to hear your voice in my ear. But that's not possible now, so I love you. Go.'" ~ Dr. Maya Angelou
When you enter a relationship with all kind of expectations, wanting the other person to be this or that, and hoping your "love" will never come to an end, you can't help but suffer. And your suffering will never come from love, but rather from your attachment to how things should be and your attachment to the other person.
Things go bad. Relationships end, but that's not the end of the world and it surely shouldn't be the end of your loving life. 
It's so important to understand that life is yours and yours alone. And just as you are a separate entity who wants to be and feel free, so is your partner. He does not owe you anything just as you do owe him anything. If your Souls came together, they didn't come together for eternity, but only for a while.
And since you cannot know for how long you're meant to be together, the whole idea is to treasure each moment you spend next to each other and to love one another truly, purely and freely. No controlling, no bonding, no caging and no attachment.
If you try to cage each other and if you try to cling onto one another, thinking that you should be together for eternity, your Souls will rebel against it and they will try their best to escape from the bondage they are in. And the more you cling onto each other, the more pain you will bring upon yourselves.
Why do you think so many people have regrets about marriage? Because marriage has become a way to cage and hold each other "hostage". Marriage has become a way of holding the person next to us in bondage, taking away their freedom and their right to be the wonderful, unique, loving and free being they were born to be.
Love isn't about holding onto the person next to you. Love is about freeing the one you love, allowing him/her to be, to do and to go wherever their Souls needs them to go.
So you see, it's not loving that you should give up on. But rather your attachment to the many toxic ideas that are causing you to think that love can hurt you. 
Always remember that love can never hurt you, for love knows only how to love. That's all there is to love. Love is made to love and never to hurt or cause pain to anyone. So love yourself with all your might and love those you come in contact with, not necessarily because they deserve it, but because you do.
Never ever give up on love and love will not give up on you. Love is what makes the world go round, it's the glue that holds us together. A life without love is a life empty of meaning.
~Love, Luminita💫
Comments