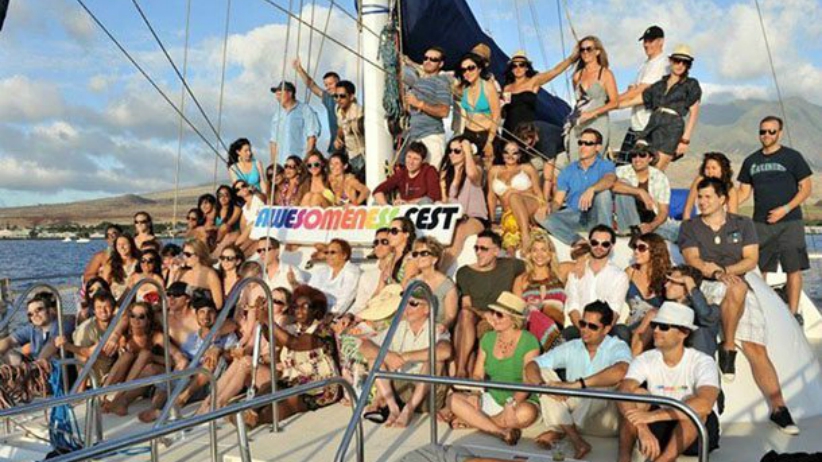 I have some exciting news to share with you…
For the past 2 years, I have been working at – Mindvalley an amazing company that is organizing one of the most incredible and impactful personal growth & entrepreneurship events in the world.
It's called Awesomeness Fest – a non-profit event where hundreds of the world's brightest minds gather in a paradise location to share the most cutting edge personal growth ideas on earth.
Afest is one of those events that seriously transforms people's lives. People have been raving about it for years as more than just an event, but as an entire "experience" (check out the testimonials). This year I'm also going to get some transformation and I'd love to invite you on the journey with me.
Awesomeness Fest is in Bali, Indonesia, coming up on August 23 (which is also my birthday woohoo!) until August 25th. I'll be there capturing gorgeous moments of the beautiful people and events.  As you've probably noticed, I love photography and Bali is one of my favorite places in the whole world, so I am REALLY excited:)
People that we'll meet include amazing speakers like Lisa Nichols, Dave Logan, Roger Hamilton, Tiffany Persons and many others. Not to mention that you get to meet me here. My dear friend,  Vishen Lakhiani, the founder of Mindvalley will also be there.
Afest Bali in August originally sold out because so many people applied (over 1900 total this year) but they've opened 30 more spots. That's why I just wanted to give a quick shout-out in case any of you were interested. It would be so fun to see some PF readers there:)
In case you can't make it to Bali there's also a second Afest event this year in Punta Cana, the Dominican Republic on November 7-10. Just a heads up.
If you'd like to join Afest 2013, just click below to read more and apply:
>>> I want to go to Awesomeness Fest 2013! <<<
PS – Check out this cool video with some highlights from Afest in Mexico last year.
Hope to see you there 🙂
A Special Event for Purpose Fairy's Readers
~love, Luminita💫
Comments